Here are the 7 best free printables for your life and business handpicked from the Ultimate Inspiring Life Planner collection. These printables are super useful whether you want to plan your week, break your goals up into small tasks, track your savings, workouts, reading, homework or beautify your home and office with a lovely inspirational quote.
So whether you are new to planning or a seasoned planner, you will absolutely LOVEEE these lovely high quality printables.
7 Best Free Printables for Your Life and Business
You may click each title below to go to their individual post to learn more about them.
This is an awesome printable if you want to plan your week. For best results, use it together with your work management app like Trello or Asana.
This plan of action printable is perfect for the creative person. Break down your big goal into small tasks. Color code it and color in each task once you've completed them. Click on the title to learn more.
The savings tracker printable is amazing when you're planning to save up for something important in your life. Think about your biggest need, event or something that will make the biggest difference in your life. Something that will make your life easier. So what's your biggest need?
The workout tracker printable is super useful for those who are planning your workouts for each week. You can simply plan your workouts, skip the days you're not working out and track the days that you are. Once you've completed a workout, you can put a tick under each day. Super useful.
Do you love reading books? Oh, I sure do! If you do, then you'll love my free reading tracker printable. List the books that you want to read, track them and search out for the list of books in Amazon or from the Audible library and put them in your watch list.
Overwhelm with homework? Don't be when you're using my free homework tracker printable. List down the list of assignments to be done and prioritise them according to their due dates. Finally, tick 'done' once you've completed them.
If you want to be inspired while beautifying your home and office with a lovely wall art, this is it! The artwork is so eye-catching and so lovely, you won't want to miss out on this gorgeous free wall art printable! Click on the title above to learn more.
Conclusion
That's it! I hope you will find these 7 best free printables for your life and business useful and will make a big difference in inspiring and helping you to be more organized.
And if you love these printables, you may want to check out the Ultimate Inspiring Life Planner collection which help you to plan and organize every area of your life. As a gift, click here to apply code ULTIMATE50 automatically to checkout and save 50% off these 7 in one bundle gorgeous planners today and be inspired by them today!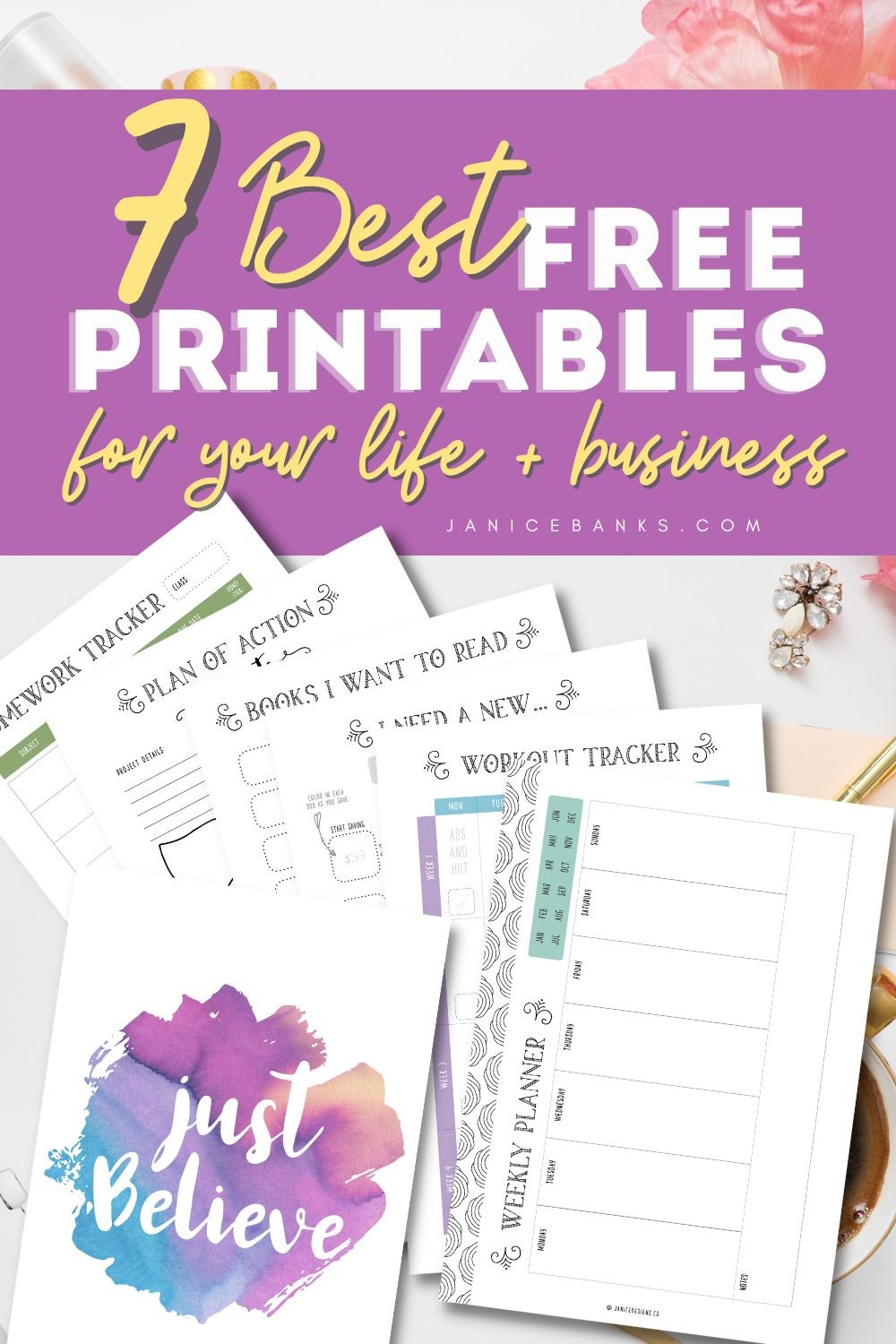 Love my freebies? Would love the support!
Printables, design elements, graphics and any digital products provided on this site are for personal use only. You may NOT modify them or redistribute them for free or monetary gain without the written agreement from the author, Janice Banks. You may share these with your classes or co-workers (educators/teachers/tutors) as long as they are not modified in any way. Please share the link to the blog post if you want to share these digital resources with others.