I can't tell you how many times making a grocery list first before shopping has saved me so much time and money. Plus, it keeps me from distraction and to focus on buying what's on the list.
What about you? Do you use a grocery list before shopping?
If not, here's a free grocery list printable which you can use when you're doing your grocery shopping.
Grocery List Free Printable
Using a grocery list printable can be an incredibly useful tool for organizing your grocery shopping and helping you stay on track with your meal planning.
Benefits of Using a Grocery List Printable
Here are some of the benefits of using a grocery list printable:
Helps you remember what you need
A grocery list printable can help you remember all the items you need to buy for your meals, including those easy-to-forget items like spices or condiments. By using a grocery list (like mine below), you can easily jot down items (under each category) as they come to mind and avoid forgetting anything.
Saves you time
With a grocery list printable, you can organize your list by section, such as produce, meat, and dairy, to save you time when you're shopping.
Helps you stick to your budget
By having a list of items you need, you can avoid impulse buys and stick to your budget. Using a grocery list (and writing down their prices next to the items) also allows you to easily add up the cost of the items you need, and make adjustments to your list as needed.
Reduces food waste
By planning your meals and shopping with a grocery list, you can avoid buying excess food that may go to waste. You can also make notes about the quantities of each item you need, so you don't buy more than you need.
Makes grocery shopping less stressful
Having a grocery list printable can make your grocery shopping experience less stressful and more efficient. This is more so when you're shopping with your kids. Having a grocery list will help eliminate distraction and help you to focus on buying what's on the list, instead of going off track and buying what your kids want.
Overall, using a grocery list printable can help you stay organized, save time and money, and make grocery shopping a more enjoyable experience.
Download Your Grocery List Free Printable
You can download the Grocery List Free Printable here and start listing down your groceries today.
If you like this grocery list free printable, you'll love this set of kitchen planners too.
For a limited time, you can save 60% off this lovely kitchen planners when you purchase it through this link. Click to apply the code MYLOVELYKITCHEN at checkout automatically.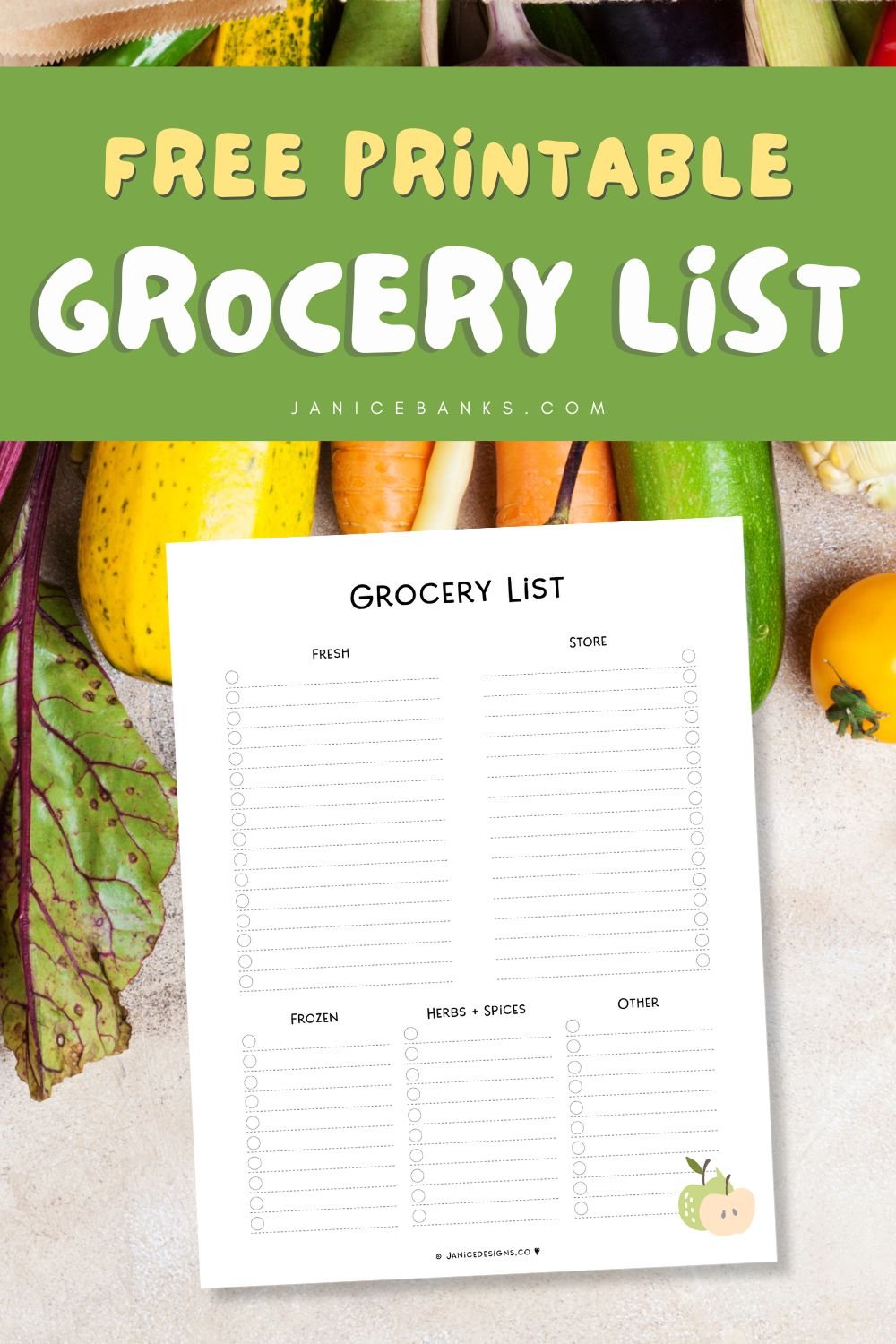 Love my freebies? Would love the support!
Printables, design elements, graphics and any digital products provided on this site are for personal use only. You may NOT modify them or redistribute them for free or monetary gain without the written agreement from the author, Janice Banks. You may share these with your classes or co-workers (educators/teachers/tutors) as long as they are not modified in any way. Please share the link to the blog post if you want to share these digital resources with others.