I recently started planning my week again after God knows how long. And this time, I'm on a mission to stick to this challenge for the next few weeks, months and hopefully years to come.
It all comes down to one thing. Crushing your goals.
So how do you do that?
Little things that seem insignificant in the doing, yet when compounded over time yield very big results! – Jeff Olson
It all starts with planning and writing your goals down. Get it in front of you where you can see it and read it.
And right at the bottom of this post, you'll get a lovely weekly planner free printable created by yours truly 🙂
But first things first.
Plan Your Month
Do this after you have planned what you want to achieve for the next 12 months. Remember it is never too late to plan. If it's already June and you haven't yet planned your goals, don't beat yourself up for it.
Start today. Start now.
The most important thing is to take action and write them down.
Once you got your month planned, break your goals up into teeny-weeny tasks for each goal you have created for the month.
Transfer These Tasks Into Your Weekly Planner
Then transfer these tasks into your weekly planner. This is great if you are a paper planner kinda person.
But if you're someone who looks at your calendar all the time and you're someone who forgets that you've written your tasks on a paper somewhere..then I suggest to calendarize these tasks into your calendar or into a digital calendar like Asana.
For those who don't know Asana, Asana is a work management platform that helps you or your team to manage, track and organize your work.
This is a REALLY awesome tip that I've tried recently, because if you're using a digital calendar (calendar view), I can see the dates visibly in front of me and if I don't calendarize my tasks in, I feel that these tasks are floating somewhere in space waiting for someone to assign them and if you don't calendarize them in, you won't be serious about doing them.
Assigning these tasks in your calendar or your weekly planner (this is especially awesome if you add dates with it), you will more likely to take action and get these tasks done.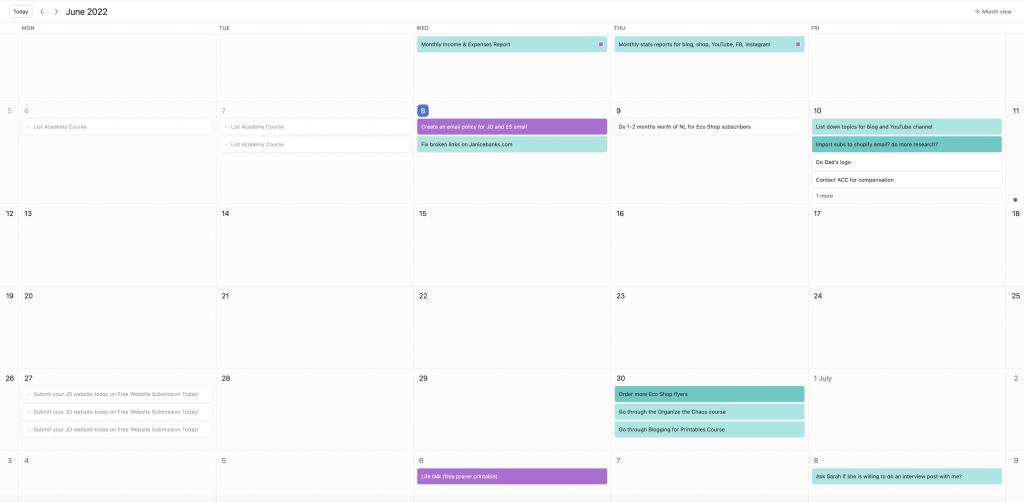 Move Your Tasks Around
Planning your week doesn't mean everything will go as plan and you will need to follow the plan to a tee.
This isn't true at all. Sometimes we overestimate what we can do in a day and that's entirely normal!
This happens to me ALL the time because I get over-adventurous and try to squeeze as much in as I can in a day.
So as I complete my tasks for the day, whatever tasks I can't finish, I move it over to the next day or the day after. Do this on both your Asana and your weekly planner printable.
And soon, you will realize how long that particular task will take you and it will help you to plan more realistically the next week.
You can use this method hand in hand with your weekly planner free printable and Asana if you enjoy planning on paper as well as digitally. You can keep your Asana open in your tab so you can see an overview of tasks of what needs to get done for the month, while having the weekly planner on a piece of paper in front of you, on your desk to keep you grounded and focused while you do your tasks for the day.
This is just one of many ways to plan. There's no one right way or wrong way to do it.
Just do what's comfortable for you because every person has different unique ways of planning.
Just do you 🙂
Take Action!
Lastly, remember to take action on your goals and tick those tasks off once you've completed them.
As promised, you can download your Weekly Planner Free Printable here.
Enjoy and happy planning!
Weekly Planner Free Printable
If you want to create your own weekly planner printable, read this blog post here.
Enjoy this weekly planner? Then you will LOVE the Goal Planning planner as the free printable is part of this planner collection. Click here to automatically apply this code GOALPLANNING25 at checkout and save 25% off this gorgeous planner.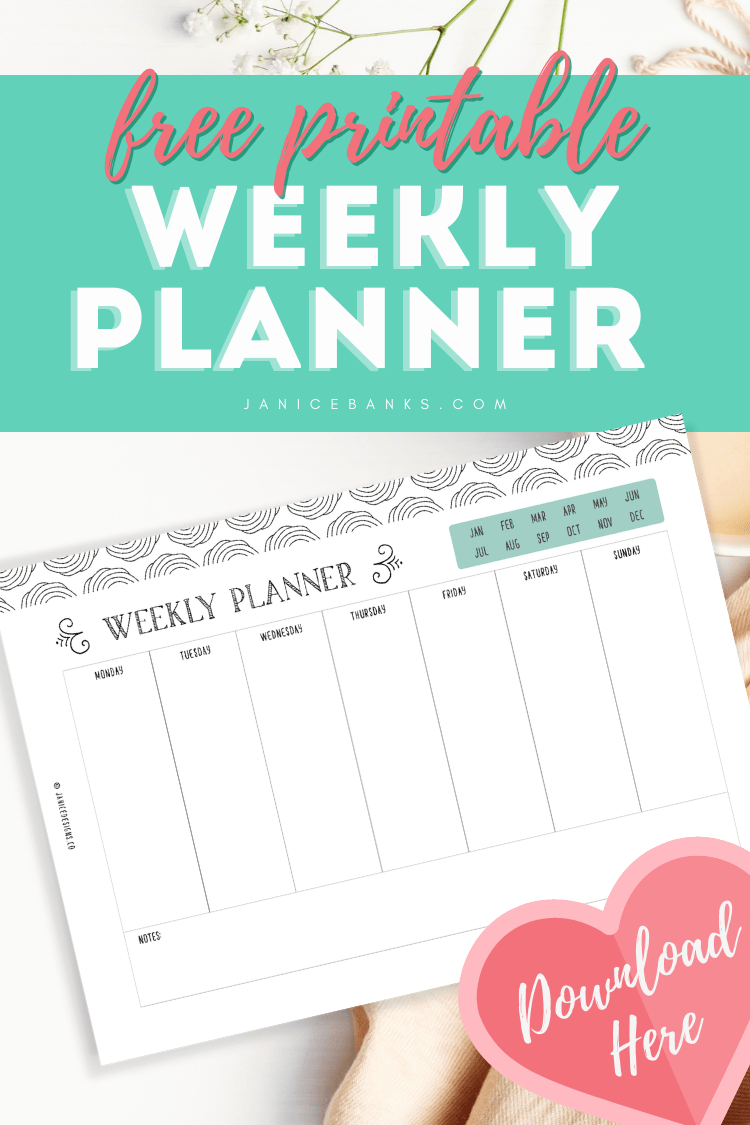 Love my freebies? Would love the support!
Printables, design elements, graphics and any digital products provided on this site are for personal use only. You may NOT modify them or redistribute them for free or monetary gain without the written agreement from the author, Janice Banks. You may share these with your classes or co-workers (educators/teachers/tutors) as long as they are not modified in any way. Please share the link to the blog post if you want to share these digital resources with others.