Beautiful spring is here and I am excited to share with you some lovely color palettes for spring which I've curated and put together for you.
Color palettes are an amazing tool to use while working on various projects like creating your:
Business brand identity (logo, business cards, etc.)
Website design
E-Commerce store design
Wedding theme
DIY home projects (renovations, interior design, etc.)
Wardrobe (clothes that goes with certain colors)
Arts and crafts (greeting cards, scrap book, etc.)
And so much more…
An attractive color palette can help capture your audience's attention and keep them engaged with your content. If you're using a color palette that matches your brand colors, it can help reinforce your brand identity and create a cohesive look across all of your content. The benefits are endless.
Let's look at these gorgeous color palettes for spring which I have put together for you today.
15 Best Color Palettes for Spring
Color hexcodes:
Fuzzy Wuzzy Brown – #C1545F
Old Gold – #D19B43
Ebb – #E6E8E3
Breezy Blue – #95C4D3
Astral – #368C9D
Color hexcodes:
Barely Brown – #de6755
Karaka – #2f2c25
Mirabelle Yellow – #f2bf68
Cranberry Whip – #8d4341
Artichoke Green – #557343
Color hexcodes:
Seafarer – #1e5069
Rawhide – #865b48
New Fawn – #cba073
Rainmaster – #9ba5a8
Flush Mahogany – #c92720
Color hexcodes:
Ceylanite – #35451b
Plantain – #99943f
Modish Moss – #c1b688
Mint Circle – #a8cba8
Creamy Garlic – #ecefe4
Color hexcodes:
Peanut Butter Jelly – #cd4d2c
Japanese Fern – #b7b84d
Serene Scene – #d3ca80
Blushing Tulip – #e4a0b5
Barely Blue – #dce0de
Color hexcodes:
Ceylanite – #344623
Caught Red-Handed – #bd4435
Weissbier – #b3803c
OK Corral – #d67463
Galveston Tan – #e9c8ba
Color hexcodes:
Lindworm Green – #23210E
Pandanus – #66714F
Fuzzy Unicorn – #ECDDD8
Fireplace Glow – #D79776
Uluru Red – #8D2415
Color hexcodes:
Patch of Land – #285108
Galliano – #d5a526
Passementerie – #eed688
Silvery Moon – #e6e5dc
Mellow Mango – #d14904
Color hexcodes:
Petrol Slumber – #25353d
Oarsman Blue – #669097
Silver Whiskers – #b9c4c4
Roanoke Taupe – #90837c
Weathered Brown – #5a504e
Color hexcodes:
Nominee – #337467
Green Room – #7fada4
Brazilian Sand – #d8c5b3
Rumba Orange – #c57946
Scarlet Red – #b83e33
Color hexcodes:
Camouflage – #3e3e11
Cranberry Sauce – #a23655
Just A Tease – #fbd6d3
Blush – #f39e8e
Weapon Bronze – #b27d28
Color hexcodes:
Foggy Morn – #c9d1cf
River Fountain – #23878d
Water Glitter- #74b2b7
Cheerful Wine – #f4457
Muddy Waters – #a7864d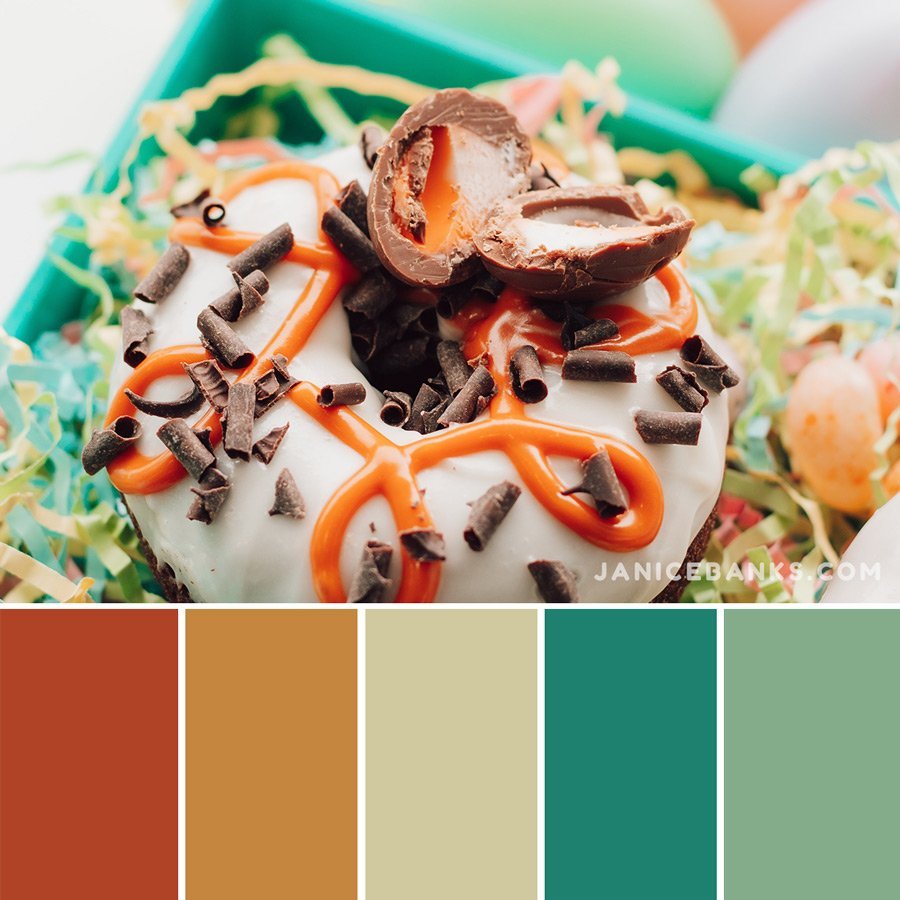 Color hexcodes:
Tia Maria – #B04225
Honeysuckle Blast – #C4863E
Light Pale Honey – #D0C99F
Teal Green – #1D8170
Mid-century Gem – #84AC8C
Color hexcodes:
Arcala Green – #3e6d42
Parachute – #c3bf54
Mellow Green – #d9d792
Thin Cloud – #d4ded9
Baby Cake – #85bfa0
If you love these color palettes for Spring, you'll love these pastel color palettes as well.
Pin This!
If you've found this post helpful, pin this image on Pinterest on your Spring Color Palettes Board
Printables, design elements, graphics and any digital products provided on this site are for personal use only. You may NOT modify them or redistribute them for free or monetary gain without the written agreement from the author, Janice Banks. You may share these with your classes or co-workers (educators/teachers/tutors) as long as they are not modified in any way. Please share the link to the blog post if you want to share these digital resources with others.